Store
CoolDog Jacket
00025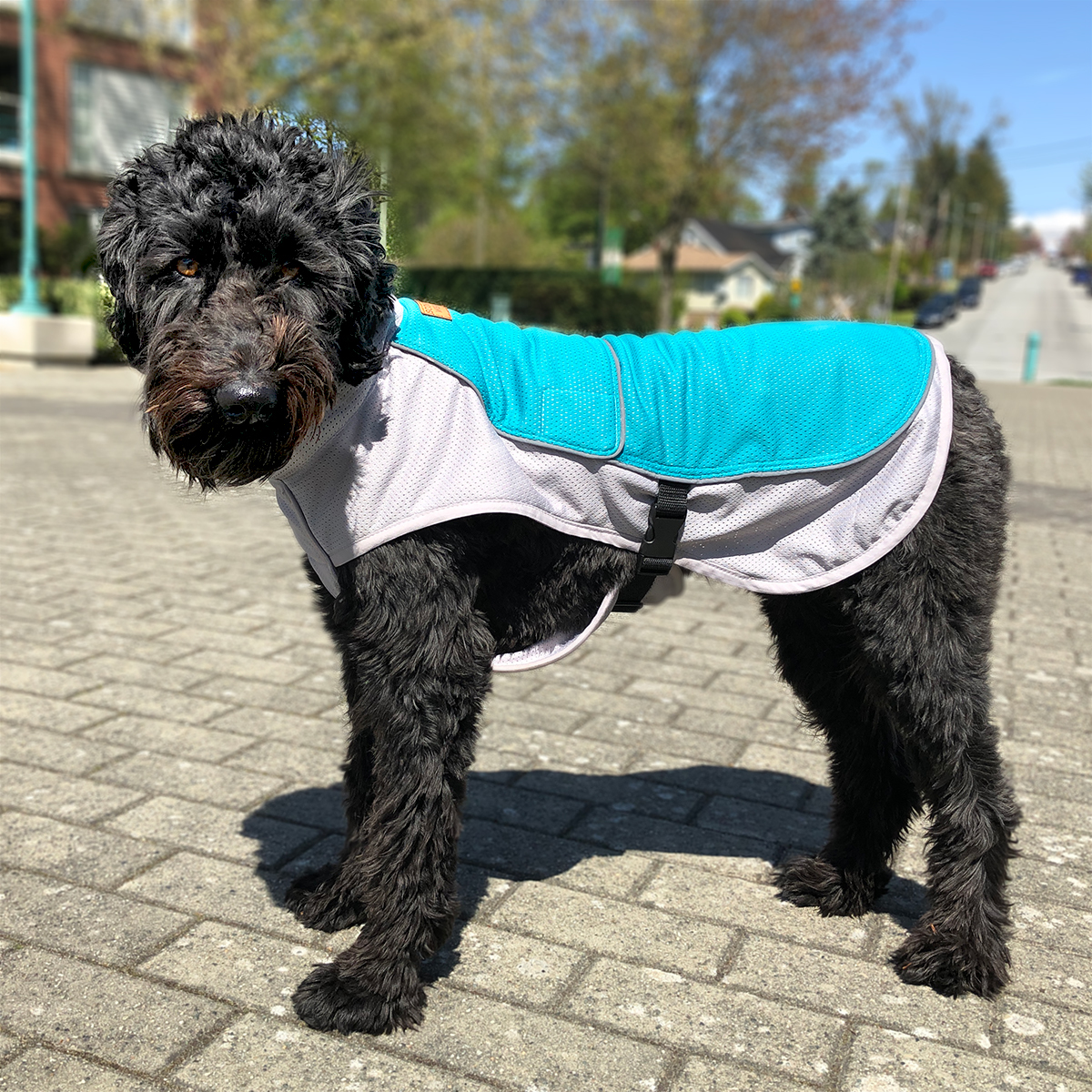 Temperatures are going up and if you have a dog that likes playing outdoors, the advent of sweltering summer days can raise your hackles. Add some exercise into the mix and you've got some serious concerns! We believe all dogs should be able to enjoy the outdoors no matter what the temperature or time of year. Heat waves and sweltering summer days are upon us!
Our CoolDog Jacket has a leash portal in the back so it can be worn over top of a harness. The three-layer evaporative cooling construction disperses heat from the dog's core using a layered construction designed to keep your dog cool when the temperature goes up. The outer layer reflects heat, the middle layer absorbs and stores water and the inside layer wicks the heat from the dogs core.
Simply soak in water and wring out slightly and then place on your dog to start the evaporation/cooling effect. The water-retaining fabrics keep moist for hours and help keep your pooch cool on hot days. No chemical coolants required.

Features include:
Reflective piping assures your pet can be seen in low-lighting conditions

Light coloured materials reflect the light providing a cooler
2 side-release buckles allows for easy on-and-off
Adjustable straps

allows you to create

a snug fit for the optimum cooling effect
Created with lightweight yet durable materials that will not weigh down or overheat your dog while in use!
Please allow 1-2 weeks before shipping as we produce each product by hand to keep it local. Thank you for your patience.
Size
XXS (0) XS (0) S-1 (5) S-2 (5) S-3 (5) M-1 (10) M-2 (10) M-3 (10) M-4 (10) L-1 (15) L-2 (15) L-3 (15) XL-1 (20) XL-2 (20) XL-3 (20)