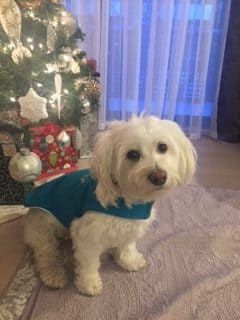 "
Fits Perfectly
I had Jill from Scouter Wear design a dog jacket as a gift for my friend's dog. Even though I wasn't able to provide the exact measurements, Jill was able to create the perfect size just based on the bred. The jacket was adorable, exactly what I hoped for, and the workmanship was outstanding. I would highly recommend Scouter Wear for anyone wanting an high quality and stylish jacket for their pet. Jill is a delight to work with.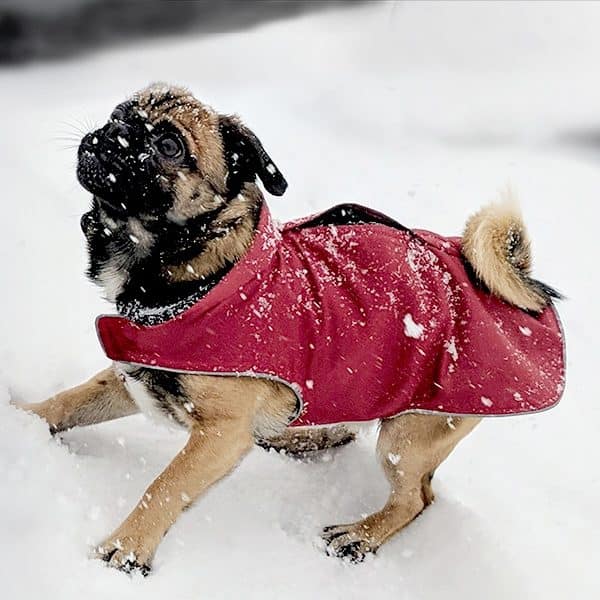 "
Really Impressed with the Patterns
I was really impressed with the patterns, and video tutorials, especially as I hadn't sewn in a very long time (amazing what you forget). Your information was easy to follow, and my raincoat was very professional looking.
"
The Best-Fitted Dog Coat I Have Ever Made
This pattern was definitely the best-fitted dog coat I have made. I was able to customise the pattern pieces (with the help of Jill's advice/tutorial) to my dog's measurements while also considering the length of my dog's body.
The step-by-step instructions are well presented and understandable via video and everything necessary is explained. On top of that great tips are provided on materials, supplies, tools etc.
Jill's patience and assistance in times of uncertainty were very helpful.
Through Jill's warmth, patience and passion my interest in custom-designed dog apparel sewing has grown even more. I am proud to be a member of this exclusive group.
"
I am Proud of My Transformation
Today, I am proud of my confident transformation. I still have a lot to learn and will face new future challenges. But Jill is a special person and wonderful teacher and an inspiration to me. If you have any unanswered questions Jill is always willing to help through her experience and patience. Sewing dog wear has become my NEW passion. A dream of mine has been fulfilled and Jill has made the learning curve easier and enjoyable.
"
Thank you so much for my special jacket, Scouterwear!
The last one my Momma bought made me too hot, not sure why she can't see how thick my coat is but I hated it when she made me wear. But the jacket you made for me is just perfect!!! Even though I don't mind the rain, Momma hates it when my thick coat gets all wet but your jacket most importantly your jacket doesn't make me too hot. It has that special cooling material I heard you talking about. I just love it!!
It also fits beautifully... like it was made just for me and I think all the ladies at the dog park like the bright colours.
Two Paws ? ? Way Up!!
Thanks,
Mac
The Samoyed Stud
"
Scouter Wear is Fabulous
Scouter Wear is fabulous. Our dog Ellie loves her jacket, it's great quality and keeps her sooo dry, we don't have to towel her down after a soggy walk!!
"
Can't Say Enough About Our Scouter Wear Jacket
I can't say enough about our Scouter Wear jacket, especially during this rainy season. My favourite features are the reflective piping, multiple spots to hook up a leash, and just how completely waterproof it is. Our time (and furniture) is saved after a dreary walk, as we don't have to towel off as much - big deal when you own a big, hairy dog! Thanks so much Jill, you really went the extra mile! ~Laurel
"
Nothing Off the Shelf Works for this Breed
Quality! I just got my third Lhasa Apso. Nothing off the shelf works for this breed. Lhasas are longer and their proportions never quite fit. Jill created a rain coat for Brandy that really works and is so cute. Love the reflective detailing. Got the Little Lady in bright green.
"
Nothing but Amazing Things to Say
We have nothing but amazing things to say about Jill and the jacket she made for our long and lean Mexican rescue pup, Lady Byng. Byng didn't measure into one of the standard sizes so Jill asked for a couple other measurements and tailored the jacket to what would fit best. After a few of weeks we identified a couple things that would make the jacket even better and Jill was super quick and gracious in making those tweaks for us. We (and Byng) love the fleece lining, reflective piping and built-in harness. It's an incredible jacket and we'd recommend Jill to anyone!
"
This Jacket Had All the Features I Needed
I admired this jacket when I saw it on Scout in the dog park. This jacket had all the features I needed — fleece lining, waterproof, with a built in harness. I picked it up today and my dog (and I) LOVES it! Easy to get on, with adjustable straps around the tummy and completely covers her back with a little flap to cover her neck if I wish. And it is beautifully hand made! What could be better?
Tell us what you think
We love to hear how our products are being used. If you're happy with your Scouter Wear product we'd love to hear from you. Even if you're unhappy with your product we'd still love to hear from you as we always want to learn from our customers. Please add your feedback using the form below.
What was your experience with our product like?
Email: info@scouterwear.com